Do you want to know more on Generative AI?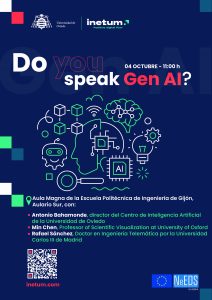 Since the launch of ChatGPT in March this year, just six months ago, the Artificial Intelligence landscape has changed on a global scale and has started a revolution in all sectors. Generative AI represents a new scenario of possibilities and capabilities in all areas.
At Inetum they are already working on different solutions based on this technology to experiment and create new use cases that can be applied on a day-to-day basis, always with the idea of putting technology at the service of people and society.
And with this same objective, the Inetum Chair and the University of Oviedo are organising this conference on Generative AI at the Polytechnic School of Gijón on October 4 2023,  where they invite you to participate.
Among the speakers the NeEDS partner Min Chen, Professor of Scietific Visualisation at the University of Oxford, will participate in the discussion.